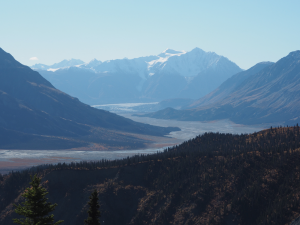 Go Global Seminar sends students to the Yukon
Picture this – you wake up in a rustic log cabin, open the door to the outside porch, and watch the sun rise above glacial mountains that tower over a sprawling, fresh water lake.
This is your classroom for the next ten days.
A reality for six UBC graduate students last September as they explored the Kluane Lake Region of the Yukon as part of a Go Global seminar that's returning this fall.
"My motivation for teaching the course is to introduce students to thinking more broadly about the systems they're studying as complex systems of interconnected human and environmental components," says Dr. Lael Parrott, professor at UBC Okanagan.
The course, called Landscapes as Complex Social-Ecological Systems, has been offered to students from both UBC campuses since 2015, but only began using the Kluane Lake Region as its research hub in 2018.
The region is host to the Kluane Lake Research Station, one of Canada's most well-established facilities for northern and ecological research, and is a strong base from which to study how the people, the landscape, and the relationship between them has evolved over the years.
"This region is super interesting because it has examples of long-standing First Nations interactions with the landscape, and still has a very strong First Nations component in terms of the landscape management," says Parrott. "It also experienced a number of really incredible large-scale physical changes related to glaciation and hydrology," she adds.
One of those changes was the complete diversion of the Slims River, which previously flowed into Kluane Lake. In 2016, climate change caused glaciers to retreat, no longer feeding the Slims River. Waters from the glaciers are now completely diverted toward the Pacific Ocean.
"What this course does is very interdisciplinary and it brings together students from different disciplines to look at systems," says Parrott. "It's important to understand that the problems we face as a society are problems that are interconnected. We can't isolate water management from wildlife management from cultural values – all of these things are interconnected."
Students spent their time immersed in the region while working on linking theory and conceptual ideas from complex systems science to the real world. Days were spent hiking and examining vast landscapes, watching salmon spawn, touring the Parks Canada visitor centre, discussing wildlife management, learning about life in bear country and attending an Elders lunch in the Kluane Lake First Nations community of Burwash Landing.
The group spent their evenings at the research station working on assignments and sharing ideas.
Federico Andrade-Rivas, a PhD student in population and public health, says although he has an interest in complexity sciences, he had some concerns about being able to apply the course to his area of study.
"Coming from public health, I thought it would be more challenging for me to figure out how this might connect to my work," he says. "But it was a great surprise that this course was truly interdisciplinary. I actually used the work that I did for the course towards advancing my own research."
Andrade-Rivas credits Parrott for creating an open learning environment where everyone felt welcome and comfortable sharing their different perspectives.
"Something happens in this kind of environment – you get really close to the people you're learning with – and you take a little more risk and participate more because you feel confident in sharing your knowledge," says Andrade-Rivas. "Lael was very open to different ways of looking at the issues we were studying – she was a very good leader."
Fatima Al-Roubaiai, a full-time graduate student in nursing, worked as a registered nurse for 10 years, spending the majority of her time in quality improvement and patient safety. She says she found the course while browsing Go Global programs.
"I was looking at opportunities to combine my love of travelling with my love of learning," she says.
What drew her to the program was the focus on complex systems and complexity science, noting that many conversations happening on a health systems level have started to incorporate a lot of complex adaptive systems theory.
Hoping she could expand her knowledge of complex systems and bring it back to health care, Al-Roubaiai headed north.
"My experience there was incredible to say the least," she says. "Every day was different. We were experiencing the nature and the environment while we learned from the local people that we were visiting."
Like Andrade, Al-Roubaiai wasn't sure it'd be easy to find a link to her area of study, but was also pleasantly surprised.
"I'm not an environmental studies major, so coming from health care I wasn't sure I'd find a link from the environmental side of things," she says. "I left Kluane Lake completely waving the flag that we need to be more involved with climate change in health care."
The 2019 offering of Landscapes as Complex Social-Ecological Systems runs from September 5 – 14.
Parrott encourages all graduate and upper-year undergraduate students to apply, and has this piece of advice for those considering the course, "Learning in the field is so much more valuable than learning in a classroom; you just have to get up the courage to do it."
For more information on Landscapes as Complex Social-Ecological Systems, click here.
Application deadline: May 12, 2019.