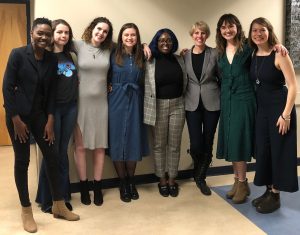 First edition of That's What [WE] Said discusses body politics
UBC Okanagan Gender and Women's Studies students recently launched their first ever student publication, That's What [WE] said.
Governed by a student editorial board, the journal features essays, art work, and poetry that all connect to the issue's theme of Body Politics.
Allison Brown, a student on the editorial board says it's important to have a publication like this on campus.
"This journal is a platform for students to showcase their work, ideas and opinions – it's a place where student voices can be heard," she says. "It also gives students the ability to get published, a valuable experience not often awarded to students in undergraduate programs."
The journal's mission statement is a lofty one, "to deconstruct stereotypes, assumptions and boundaries about gender, women, biology, bodies, race, sexuality, geography, religion, nationality, identity and everything in between."
Alison Conway, a professor in gender and women's studies, served as the faculty supervisor for this project. She says we need to be talking more about these issues on campus.
"I think it's really important for the students to model to their peers the kinds of conversations they're having in class," she says. "All of these issues are topics of interest to the student body generally."
The journal will be published annually, and the editorial board is currently accepting applications for co-editors, as two team members graduate next month.
As for the future of the journal, Brown hopes to see it flourish in the coming years.
"I want to see it grow its reach beyond campus, but also help promote the Gender and Women's Studies program at UBCO. I want to see more students submitting work and creating a legacy each year for future students to supersede."
To view the first issue of That's What [WE] Said, click here.