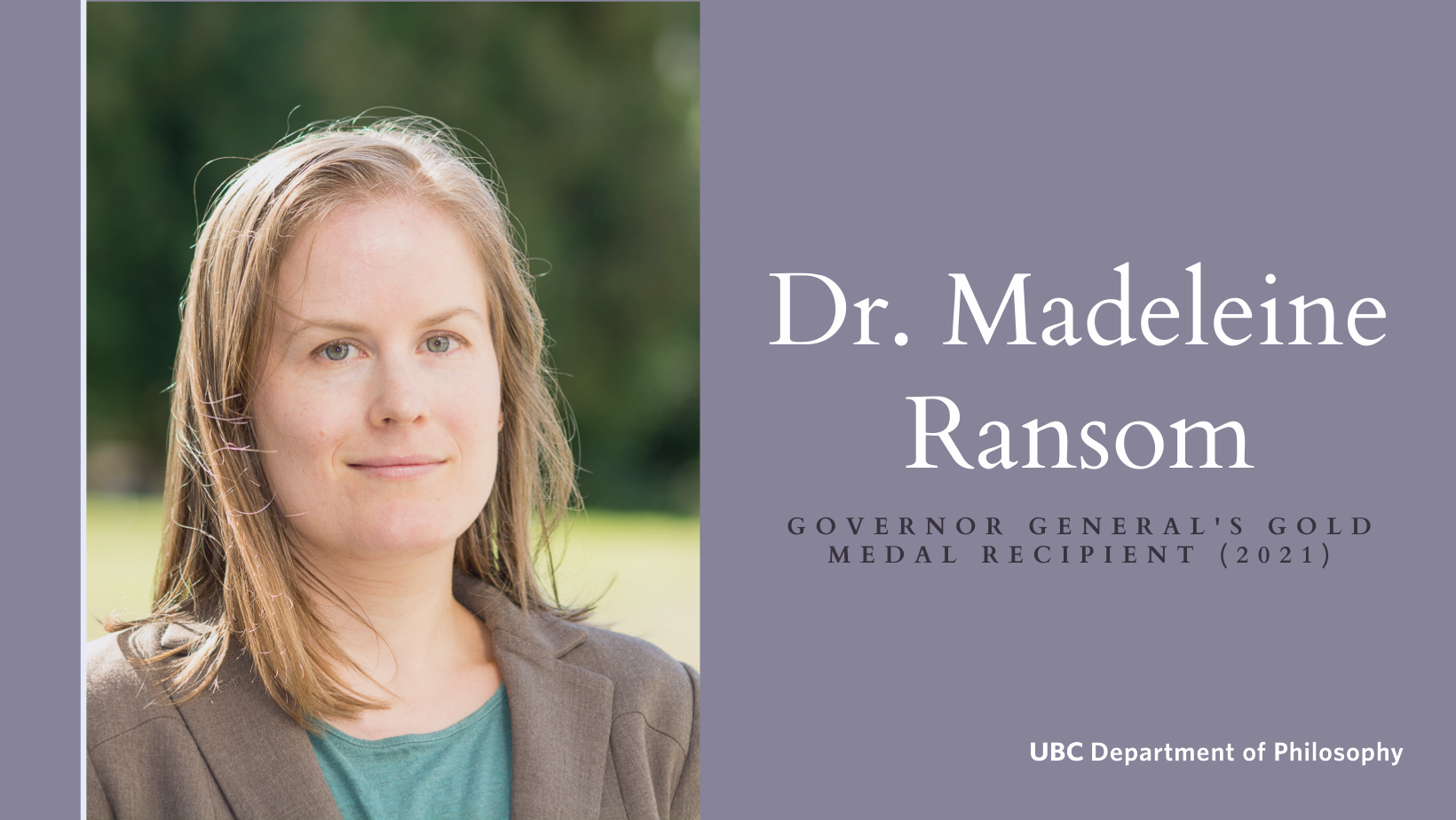 The Governor General's Gold Medal is an annual award given to exceptional graduate students across Canada. Only two UBC graduate students per year receive this honour—one graduating doctoral student and one graduating Master's student. We are pleased to announce that UBC Philosophy's Dr. Madeleine Ransom has been awarded the Governor General's Gold Medal for achieving the most outstanding academic record in her graduating doctoral class.
Madeleine (UBC BA '11, MA '13, PhD '20), who recently joined UBC Okanagan's Department of Economics, Philosophy, and Political Science as an Assistant Professor of Philosophy, recently shared some thoughts with us on her award win, her time as a graduate student at UBC, and the wisdom which she has to offer to current students looking to become professional philosophers. The following interview has been edited for the purposes of length and clarity.
Q. Can you tell us about your experience of learning that you had won the Governor General's Gold Medal?
It was a real surprise—I wasn't expecting to win the award at all. UBC is home to so many incredibly talented PhD candidates doing meaningful work. A large portion of the thanks goes to my incredibly supportive supervisor, Dominic McIver Lopes, who spearheaded putting the application together.
Q. What does it mean for you to receive this award at this point in your academic career?
It's very meaningful for me to receive external recognition for my work while in grad school. I don't think it's good practice in general to measure the quality of your work through external recognition, but it's a nice affirmation that you're doing something right.
It's also very significant for my family, my father in particular. He is a genetic scientist at McGill, where he works primarily on cystic fibrosis. He received the Queen Elizabeth II Diamond Jubilee Medal in 2012, and so, when we next see each other in person, we are going to take a (very nerdy) photo of both of us with our medals. Even as an adult, it's nice to make your parents proud.
Q. Can you tell us about your time as a graduate student at UBC?
It is where I created a life of the mind for myself. There is intrinsic value to intellectual work, beyond just the value of whatever it is that one ends up producing. Of course, one doesn't need a university to do intellectual work, but the structure and community that universities provide are central to this aspect of human flourishing. Informal discussion and friendship with professors and the other students in my program was a big part of my education. The people in the Department of Philosophy at UBC have created a really supportive community.
Q. In an interview you did with Graduate and Postdoctoral Studies back when you were an MA student, you talked about what you hoped to accomplish with your research:
"I hope that my research will help illuminate the nature of the connection between the imagination, fiction and belief. In my PhD, this is what I want to focus on. Fictions have an effect on what we believe and the way we act. People may change their stance on gay marriage as a result of watching the television sitcom Will and Grace, or change their views on nuclear disarmament after reading a post-apocalyptic novel. How exactly does fiction influence belief? Should it?"
How did your research end up aligning with or deviating from this goal?
My current research definitely takes a different path from what I was working on in my Master's degree, though it is still focused on understanding how the mind works, with an eye towards how this might contribute to social inequality. My doctoral research is on perceptual learning, with a focus on understanding how perceptual experience changes as we gain expertise in a given area. In my postdoctoral position at Indiana University, Bloomington, where I worked as a member of Dr. Robert Goldstone's Percepts and Concepts lab, I began to shift my focus to the flipside of perceptual expertise—perceptual bias. My current research is on trying to characterize the varieties of perceptual biases and to determine when they might contribute to social discrimination.
Interested in learning more about Professor Ransom's research? Check out her latest paper: Expert Knowledge by Perception.
Q. You recently joined UBC-O's Department of Economics, Philosophy, and Political Science as an Assistant Professor of Philosophy. How does it feel to be continuing your career as a member of the UBC academic community?
I feel incredibly lucky to be able to stay on as a part of the UBC community. The Department of Economics, Philosophy, and Political Science at UBC Okanagan is small but growing, and it's exciting to have a say in the direction of that growth. I'm looking forward to designing new courses, getting to know the research of my colleagues, and, of course, exploring Kelowna.
Q. Do you have any wisdom or guidance to share with students who are keen to make a career as a professional philosopher like yourself?
Take professionalization seriously. Submit your work to the conferences in your discipline, meet other people who work in the same field as you, get feedback on your written work and on the quality of your teaching. UBC has so many great resources to support grad students—like the teaching certificate offered by the CTLT and the workshops that the Faculty of Graduate Studies puts on.
Learn how to manage your time early on. I am a mother of two—I didn't have the option of working weekends or evenings, so I had to make sure I was effective in how I structured my days—but I think that those without children would also benefit from making sure that their work doesn't bleed into their leisure time by creating a plan and sticking to it.
_____________
Congratulations to Madeleine and to all of the recipients of the Governor General's Academic Medals this year!